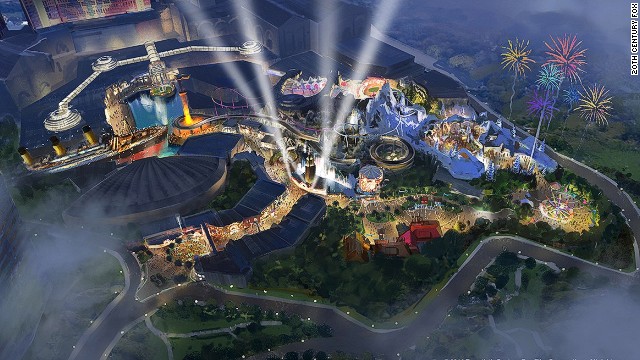 Sketch on "Ice Age" Roller Coaster
Before you book a ticket to Florida or California to check out the new "Ice Age" roller coaster!
Disney and Universal will soon have competition on the film-inspired theme park front. Twentieth Century Fox has just unveiled plans to join the thrill ride party.
Named "Twentieth Century Fox World," the brand's first theme park is set to open 2016 as part of Malaysia's Resorts World Genting, a leisure and entertainment complex about an hour outside of Kuala Lumpur. This the 20th Century Fox's first Theme Park being build and Malaysia being choosen as its location.
According to the plans, the 25-acre park will feature
more than 25 rides and attractions
based on Fox films such as "
Ice Age
," "
Rio
," "
Alien vs. Predator
," "
Planet of the Apes
" and "
Night at the Museum
."
Some will be geared towards kids, others for thrill seekers. We can't confirm our suspicions, but it's likely the "Alien vs. Predator" ride will not be ideal for three-year-olds.
Genting Integrated Tourism Plan (GITP)
Prime Minister Datuk Seri Najib Razak launched the Genting Integrated Tourism Plan (GITP) and the world's first international Twentieth Century Fox Park on Monday, 17th Dec 2013.
The 10-year GITP masterplan will kick off with the first phase comprising development of new hotel properties, infrastructures and amenities as well as the refurbishment of the Resorts World Genting hotels.
The Genting Integrated Tourism Plan (GITP) plan, totalling RM5bil, also includes a hilltop development of a three-star hotel with about 1,300 rooms next to
First World Hotel
and a show arena that can seat 10,000 people.
The GITP initiatives and the opening of 20th Century Fox World in 2016 were expected to attract 36 million tourists,
RM168 billion in tourism revenue
and
3.3 million jobs by 2020
.
"Under this plan, Resorts World Genting will offer to the ECER infrastructure as well as value-added products and services.
Genting Malaysia CEO Tan Sri Lim Kok Thay said in a statement. Other new developments at the hilltop resort include a 10,000-seat arena, a new cable car station and a "shopping haven" of premium outlets.
Fueled by Asia's emerging middle class, Malaysia is now the second most visited country on the continent after China and the 10th in the world with more than 25 million arrivals in 2012. Genting's six Malaysian properties alone attract nearly 20 million domestic and international guests a year, and the company believes many visitors to the new park will come from as far away as China and elsewhere in Asia.
"The opening of the first Twentieth Century Fox theme park at Resorts World Genting takes our rich history of storytelling to a whole new level and will provide an exceptional entertainment experience," said Jeffrey Godsick, president of Twentieth Century Fox Consumer Products, in a statement.
"People from around the world will gather here in Malaysia to become part of the story and to experience the magic and adventure of their favorite Fox properties."
Twentieth Century Fox has teamed up with with leisure and hospitality corporation Genting Malaysia to build the park.
Genting Malaysia CEO Tan Sri Lim Kok Thay said they're investing $300 million (up from $125 million) in Twentieth Century Fox World and expect most visitors to come from Malaysia with international arrivals coming mainly from China and Southeast Asia.
Greg Lombardo, vice president of location-based entertainment for Fox Consumer Products, told CNN that other Twentieth Century Fox World theme parks are in the works as well.
"We are creating a unique and exciting destination brand with a true global appeal," he said.
"In the coming months you will be hearing much more."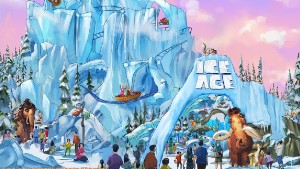 South East Asia's theme park boom
Twentieth Century Fox World will feature rides and attractions based on Fox films, including "Ice Age."
Twentieth Century Fox's decision to build its first theme park in Malaysia will be a disappointment for U.S. movie fans, though it's not surprising given the success of other big brand parks in the region, fueled by a growing middle class.
"Malaysia has a booming tourism economy and it is a very important growing market for our films and television properties," said Lombard.
"The consumer has a growing appetite for new and engaging entertainment experiences. It was a natural place to for Fox to create our first theme park and marks an important milestone in our global location based entertainment strategy."
Asia's first Legoland opened in Malaysia in 2012. Just a quick drive from Singapore, the $243 million, 30-hectare theme park dedicated to the colorful kids' bricks is made up of 40 rides, shows and attractions.
In October of this year, it added a
Legoland Waterpark
-- the brand's largest to date. A Legoland hotel, the final phase of the resort, will open in early 2014, said officials.
South of the border, Singapore has its own theme park behemoth, Universal Studios, which opened in 2010 as part of Resorts World Sentosa.
In Thailand,
Cartoon Network Amazone water park
is expected to open near the resort city of Pattaya in mid 2014. (This is an Amazon Falls Co. Ltd project, developed under license from Turner Broadcasting System Asia Pacific Ltd. Both Cartoon Network and CNN International are operated by Turner Broadcasting System International, a Time Warner company.)
Various Source :
CNN, 18 Dec 2013
International Business Times, 17 Dec 2013
NST
FoxNews.com